Co-Chair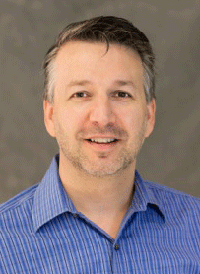 Mike Crandall
BoardCoChair@ReconcilingWorks.org

Mike Crandall (he/him), Dallas, Texas, has worked for the past 23 years in the telecommunications industry, currently as an Assistant Vice President of Infrastructure Program Management for AT&T. Married to Shawn Hudson since August 2012, his personal interests include cooking and food, theater and film, and travel.
Co-Chair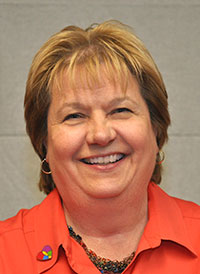 Cheryl Stuart
BoardCoChair@ReconcilingWorks.org

Cheryl Stuart (she/her), Tallahassee, Florida, an attorney, has more than 25 years of experience on the use of special taxing districts as a way to finance and manage infrastructure for development. Serving her second term as Vice President of the ELCA Florida-Bahamas Synod, Cheryl is also Vice President of the ELCA Region 9 Council and a member of the ELCA Discipline Committee. She is married to Steve Kunst and has two college-aged daughters.
Secretary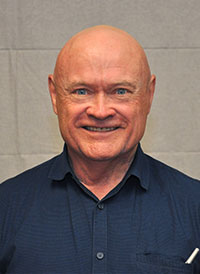 Dan Graney
BoardSecretary@ReconcilingWorks.org

Dan Graney (he/him), San Antonio, Texas, is a member of the South Texas Chapter of ReconcilingWorks. Dan served as Vice President of Lutherans Concerned/North America from 1982 to 1984. He has been an activist in San Antonio's LGBT community for many years. He and his late spouse of 36 years, Roberto J. Flores, were a team and co-led efforts to raise political awareness within San Antonio's LGBT community. Dan is an ordained Lutheran pastor and worked as an immigration attorney until retiring in 1993.
Treasurer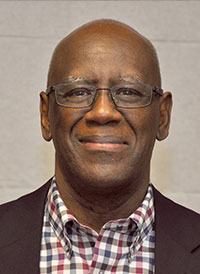 Herman Cage
BoardTreasurer@ReconcilingWorks.org

Born and raised Baptist in Kansas City, Missouri. Herman (he/him) attended Northwestern University, obtaining BS and MBA Degrees. At his first job out of college, he met his wife, Mary, a Lutheran from Minnesota. They have been blessed with two adult daughters and three fantastic grandchildren. They have been members of Prince of Peace Lutheran Church (RIC Congregation) Schaumburg, Illinois, for the past 30 years. Herman has served the faith community in a variety of ways at the congregational, synodical, regional and national levels. His professional career began as a CPA with a "Big Eight" Firm in the Chicago, Illinois area, followed by more than 20 years of financial management positions with large corporations. For the past 15 years, he has had a tax, financial planning, and business consultative practice, providing services in about 35 states and 6 countries. Herman is very pleased to be a part of the ReconcilingWorks family.
At-Large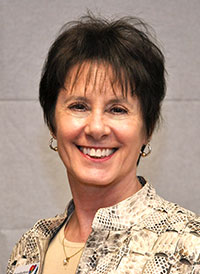 Dr. Marge Charmoli
BoardMargeC@ReconcilingWorks.org

Dr. Marge Charmoli is a psychologist in private practice in St. Paul, Minnesota; has taught at Macalester College and the University of Minnesota. Extensive public speaking experience to lay and professional audiences, local, national, and international, on sexuality, sexual orientation, spirituality, mental health, addiction recovery, trauma, school violence, disaster preparedness/response, and professional development. Radio and television to educate the general public about depression, stress, sexuality, disaster preparedness, and human rights. Produces and co-hosts Bi Cities, cable television program about the bisexual community and our friends and allies. Consultant to the U.S. Department of Health and Human Services on substance abuse treatment for the gay, lesbian, bisexual, and transgender communities. Member of the American Psychological Association Council of Representatives and the Minnesota Psychological Association (MPA) Governing Council. Past president of the MPA and current chair of its Marriage Equality Task Force. Received the MPA Diversity Award in 2012 for educating psychologists and the general public about the psychological harm created by anti-gay initiatives such as the constitutional marriage amendment which appeared on the Minnesota state ballot in November 2012.
At-Large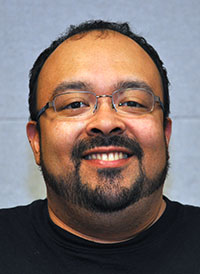 Luis Ochoa
BoardLuisO@ReconcilingWorks.org

Luis Eduardo Ochoa was born in Guatemala City, but grew up in Los Angeles, California. Luis has been in youth ministry for 10 years and is currently serving his second call in Alaska. He is the Director of Children, Youth & Family programs at Good Shepherd Lutheran Church in Wasilla, Alaska. He likes the outdoors, spending time with his wife, Bobbie, and two children, Eduardo and Joleen. As a youth director he has been given the opportunities to teach, learn and experience faith in a variety of ways. These opportunities have given him the privilege of experiencing God's love and acceptance through the eyes and hearts of children and youth. Being part of ReconcilingWorks is not about which side we take in the discussions of LGBTQ but understanding that we strive for common interests in our communities such as love, peace, change, respect, acceptance, but most importantly that we will make a difference as equals, one body, and one church. His hope for the future of our church is that we become advocates for those who don't have a voice.
At-Large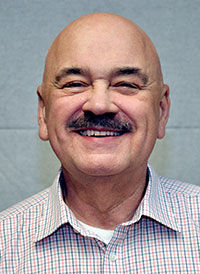 Merton Spencer
BoardMertonS@ReconcilingWorks.org

Merton is a life-long Lutheran, starting his activist gig in high school as president of his home church's Luther League. While his day job is in materials management for a hospice in Ann Arbor, MI his passion is for everyone to know there is a place for them here, in this place that is Christ's church, this place we call Lutheran. His first contact with RIC was at Lord of Light Lutheran church in Ann Arbor, already a long term RIC congregation, where he learned anew about God's welcome for all people, a place, he says, that changed his life forever. That led to involvement with ReconcilingWorks at the local Great Lakes chapter and as a Regional Director in the 1990s. Currently, he is a member of the SE Michigan Synod's Diversity Task Force on Sexual Orientation and Gender Expression. He is passionate about RIC and excited about the work that still needs to be done, the widening and deepening of the welcome that RIC is. Mert looks forward to meeting folks in Region 6 and invites everyone to join him as we journey together to this new place.
At-Large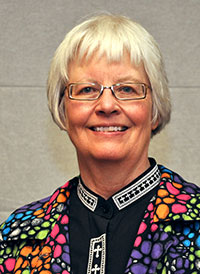 Rev. Ellen Taube
BoardEllent@ReconcilingWorks.org

Ellen Taube (she/her), from Virginia, Minnesota, is a retired ELCA pastor and a member of Reconciling In Christ congregation, Gloria Dei in Duluth, Minnesota. In 2015 Ellen co-founded two LGBTQ support groups: "S.A.F.E. in Virginia MN" for adults ("Supporting Allies, Family, Friends & LGBTQ for Equality"), and "Range Together for Youth" for ages 14-20 (affiliated with Lutheran Social Service of Minnesota). Married to Marlise Riffel since October 2013, her interests include divine comedy, power tools for home maintenance, gardening, and hydroponics.