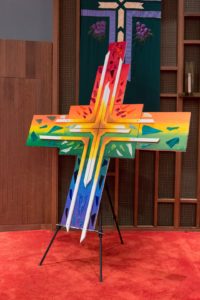 Help ReconcilingWorks welcome the newest Reconciling in Christ (RIC) community: The Flame in Portland, Oregon.
Their welcome statement reads:
"We are "The Flame"! With this playful name we embrace our LGBTQIA and ally identity, and also evoke images of faith and spiritual renewal. We are an alternative worshiping community, a little start-up church, where we gather, build relationships and community, and share our faith journeys. We celebrate that all gender identities, gender expressions, and sexual orientations are gifts from God, and that we are beautifully and wonderfully made just as we are. We bring our questions, doubts, struggles, and joys. This is a group where we work to ensure that everyone feels safe and heard. We celebrate the beautiful diversity of God's creation, including us!
The Flame is a Reconciling in Christ congregation. Regardless of your age, income, health, housing status, relationship or family status, race, religion, gender identity, gender expression, or sexual orientation, you are welcome and celebrated here."
Visit them online at https://theflamepdx.org.