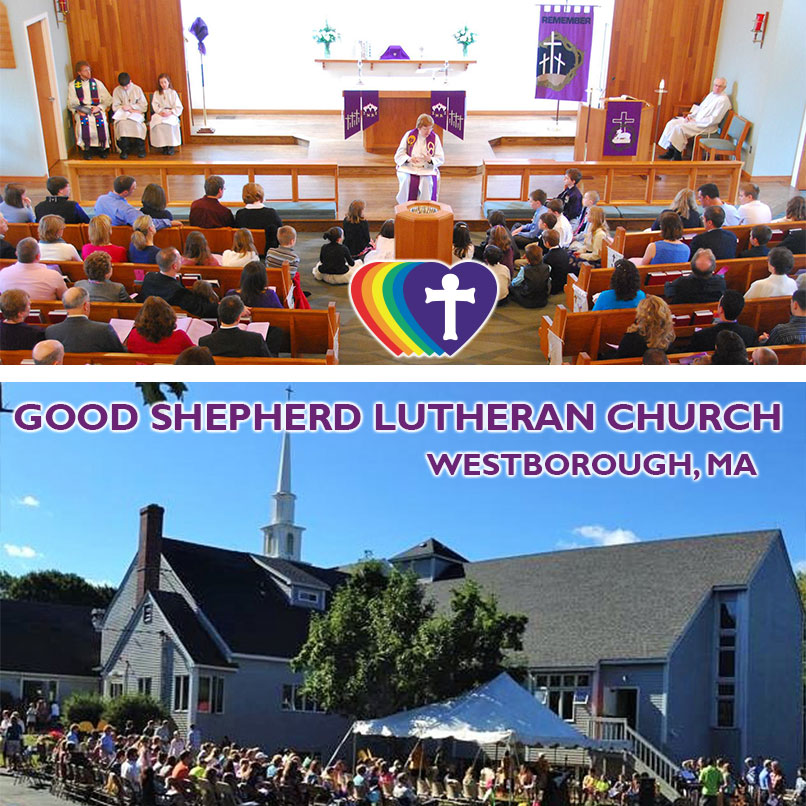 ReconcilingWorks is proud to announce our newest RIC congregation Good Shepherd Lutheran Church in Westborough, Massachusetts.
"The people of Good Shepherd join in extending you a warm WELCOME! We are a member congregation of the Evangelical Lutheran Church in America (ELCA). We are a young and active congregation sharing the good news of God's love in the Westborough, MA area since 1960. In our life together we seek to live out what St. Paul once wrote: "Welcome one another, therefore, just as Christ has welcomed you, for the glory of God." (Romans 15:7)
At Good Shepherd, our mission statement is "Growing, nurturing, making disciples in Christ." We envision a world where the hungry are fed, where the homeless are sheltered, where poverty and prejudice have become an element of the past. We envision faith in place of doubt, friendship in place of loneliness, and peace where there is chaos. We seek to live out our identity as followers of Christ in the world by doing God's work with our hands throughout the week. At work, at home, at school, wherever we find ourselves; we carry the promise of God's love made real in Jesus Christ with us. Transformed by that love, we are empowered to make a difference in the world around us.
We are proud to be a Reconciling in Christ congregation and look forward to welcoming new members into our community. YOU are welcome here, come and see! We welcome you to join us!"
Join Zion for worship Sundays at 7:45 AM, 9:00 AM, and 10:45 AM at 183 West Main Street, Westborough, MA 01581. Visit them online Join Good Shepherd for worship Sundays at 7:45 AM, 9:00 AM, and 10:45 AM at 183 West Main Street, Westborough, MA 01581. Visit them online at http://www.goodshepherdcares.org/ and at facebook.com/pages/Good-Shepherd-Lutheran-Church-of-Westborough-Massachusetts/106233129134?fref=ts
---
Will you consider helping us support more congregations along their welcoming journey? Your support helps us continue to provide networks, educational resources and training to LGBT Lutherans, allies and almost 600 congregations and ministry settings (and rapidly counting) that publicly declare their welcome and affirmation of LGBT people. We can't do it without you. Please donate or become a ReconcilingWorks member today!