Life at the Intersection | The Last Bastion of Fictional Heterosexuality:
Shout OUT to Sam and Collins
Michael Cobbler, Co-Director of Committee for Working at the Intersection of Oppressions
February 28, 2014

On this last day on Black History Month, I would like to give a "shout-out" to two athletes – Michael Sam, and Jason Collins. Michael Sam is the University of Missouri graduate and defensive end who announced earlier this month that he is gay. Jason Collins is a NBA center, now playing for the Brooklyn Nets, came out as gay last April.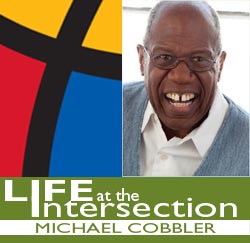 A commentary written this week by Farrell Evans on ESPN.com speaks to the significance of these declarations. His article, "Black and gay in sports," is a reminder on how far we have come in the reception and acceptance of African-American men in professional sports. While we have indeed come far, however, there is still another barrier to break – and that is drafting an athlete who has come out as gay. As Marcellus Blount, quoted in Evans' commentary, says, "Sports is the last bastion of a kind of fictional heterosexuality. What's at stake here is not questions of sexuality, but that men have to be heterosexual to be athletes."
So on May 8-10, I'm rooting for Michael Sam's name to be called at the National Football League Draft – I'm thinking low third round or high fourth round. (I checked the post-combine report – he is listed #11 in the defensive end category.) To borrow from one of my favorite childhood books," Green Eggs and Ham," I offer this couplet:
"I do hope that Michael Sam
Becomes a Lion, Bear, or Ram!"
See you at the Intersection!
Michael