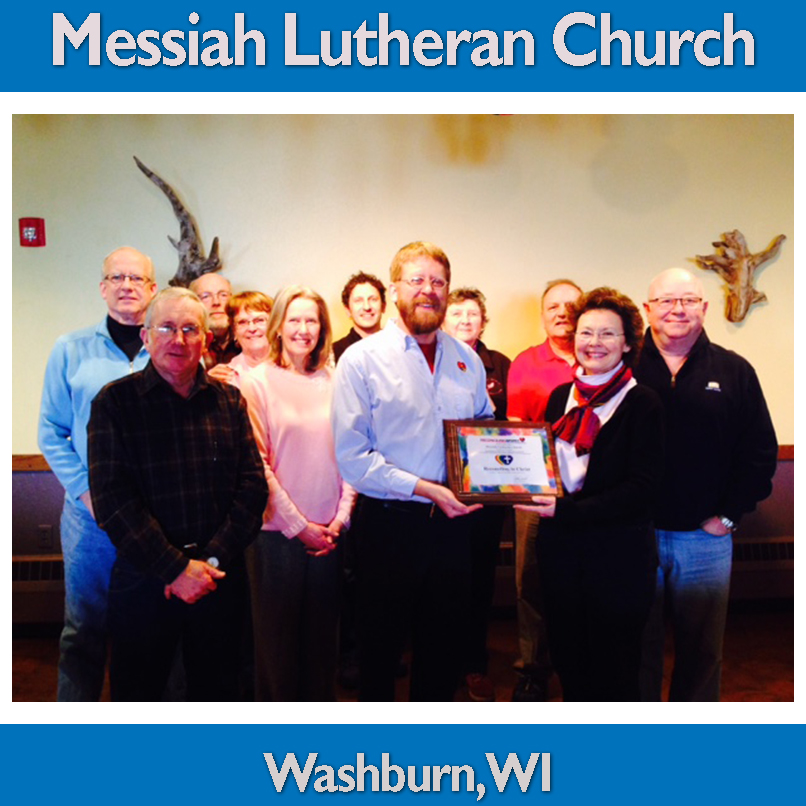 ReconcilingWorks is proud to announce our newest Reconciling in Christ congregation Messiah Lutheran Church in Washburn, Wisconsin.
"We want to make it clear that everyone is welcome to experience God's love in our church," said Pastor Nancy Hanson of Messiah Lutheran. "Messiah has been reaching out to welcome, embrace and minister to the LGBT community, their families and friends for several years. We now are making it even more apparent that we want to extend a special welcome to those who have avoided church out of uncertainty or out of fear of judgment. Our faith and this commitment guide us to look for good in everyone, and to joyfully include rather than to exclude."
"It's important especially that young people who sometimes feel alone or disenfranchised because of their sexual orientation know that Messiah is a welcoming and healing place," said Mike Miller, Ashland, and a member of Messiah Lutheran. "This was a bold and courageous step taken by the congregation. I look forward to being part of this effort to live intentionally with full openness and inclusiveness in our faith community."
Join Messiah for worship Sundays at 9:00am at 231 West 5th Street, Washburn, WI 54891. Visit them online at http://www.messiahofwashburn.com/ and at facebook.com/MessiahLutheranOfWashburnWi
---
Will you consider helping us support more congregations along their welcoming journey? Your support helps us continue to provide networks, educational resources and training to LGBT Lutherans, allies and almost 600 congregations and ministry settings (and rapidly counting) that publicly declare their welcome and affirmation of LGBT people. We can't do it without you. Please donate or become a ReconcilingWorks member today!