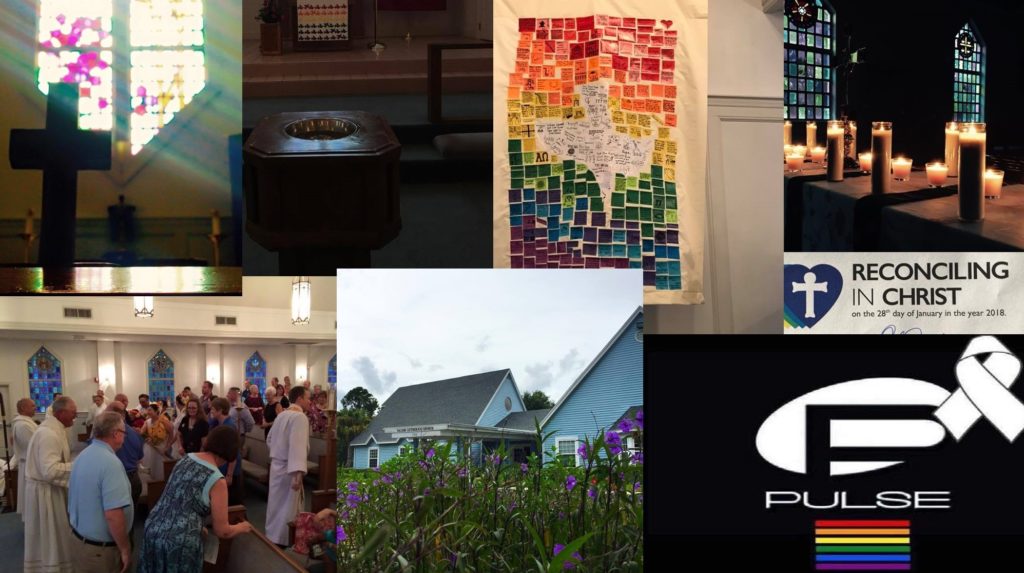 Help ReconcilingWorks welcome the newest Reconciling in Christ (RIC) community: Salem Lutheran Church (Orlando, FL).
Just as the 799 ministry settings that have come before Salem Lutheran, every community has its own RIC Journey that informs the way in which they live out the faithful ministry of welcoming all of God's people. For Salem, this journey took flight immediately following the Pulse Night Club shooting on Sunday, June 12, 2016. Pastor Hoven writes:
"Prior to the shootings there were no Reconciling in Christ congregations in the Orlando area, though several of the congregations were open and affirming in spirit. That it took the Pulse shootings targeting the LGBTQ community to bring congregations together to act is unfortunate, but the church did begin to move."
The following day, June 13th, pastors of the Florida Bahamas Synod began planning a Building an Inclusive Church (BIC) training for the Heart of Florida Conference. That October, one of the largest BIC Training's that ReconcilingWorks has experienced, over 70 people attended the training from various conferences congregations and beyond.  Salem hosted a prayer vigil, where the local Islamic Center was invited and attended, offering prayer in Arabic.  In the months to follow, Salem worked towards revising its mission, vision, values, and purpose; conversations around radical grace were guiding the conversation, discussing ways in which Salem could live out such things, truly being a welcoming and inclusive congregation.
While working on their welcome statement, Pastor Hoven shared:
"This inclusive welcome is not something the congregation does in spite of scripture, as some may believe, but because of what we find in scripture with respect to God's love and grace for all of God's children. We believe Jesus came to reconcile the whole creation with God and so we try to live into this vision for the future. This vision is centered on the communion table where we welcome everyone to participate. We seek to find ways for people of every age and ability to serve in worship leadership roles."
In working towards revising its values, the congregation began to recognize that it was not so much about changing others hearts and minds to fit the values expressed in their workshops and welcome statement, but recognizing where their collective heart already was. While the congregation owns up to not having followed all the steps and plans perfectly, they listened and tended to Salem's values leading them into mission and ministry, voting to become Reconciling in Christ, and taking the next steps in their RIC Journey.
Their welcome statement reads:
"At Salem Lutheran Church we value the diversity of God's people gathered in community together, where everyone's gifts are not just welcomed, but cherished as part of the whole. We proclaim that the gifts of God are free and that God's grace is for all people, and all means all. This means we welcome and include all…

• Ethnic, national, and racial identities
• Gender identities and sexual orientations
• Ages and abilities
• Life stages and family arrangements
• Religious experiences and spiritual journeys
• Economic situations
• Political persuasions
• Sinners and saints

We long to reflect the diversity of God's creation understanding that this is a messy journey we share but a beautiful mess blessed by God's grace."
We thank not only Salem, but all the communities who continue to participate in this work. Learn more about Salem Lutheran Church at: http://salemlc.net/.