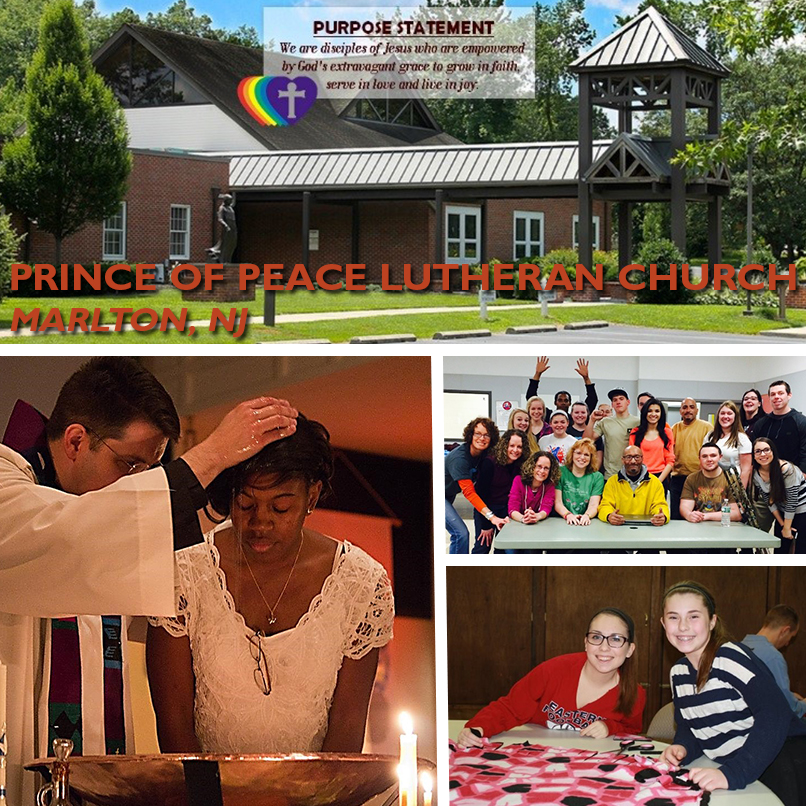 ReconcilingWorks is proud to announce our newest Reconciling in Christ congregation Prince of Peace Lutheran Church in Marlton, New Jersey.
"Our mission, as the disciples of Jesus the Prince of Peace, is for each of us to embody the five elements of peace: Purpose, Practice of Spirituality, Relationships, Wellbeing & Wholeness, and Love. Not only is our mission to encounter the peace of Christ ourselves, it is also and primarily for us to share. We are disciples of Jesus who are empowered by God's extravagant grace to grow in faith, serve in love and live in joy. We proclaim Jesus as our Lord and Savior. We are embraced by God's extravagant grace. We celebrate Christ's life-giving presence through word and sacrament. We live Jesus' way by welcoming and inviting all. We are called to be good stewards-generously sharing God's gifts. We are God's hands and voices at work in the world. The congregation of Prince of Peace is about building relationships. We build relationships with God, with each other, with our community and we reach out through the NJ Synod and Evangelical Lutheran Church in America through giving our time, talents and treasures. "
Prince of Peace offers three worship opportunities on the weekends, Saturday at 5:30 pm, Sunday morning 8:15 am and 11:00 am. Youth Sunday School and Adult Forum on Sundays at 9:45 am. We offer many service and social opportunities for you and your family to become involved and grow with our congregation. Visit them at 61 Route 70 East, Marlton, New Jersey 08034. Visit Prince of Peace online at http://popmarlton.org/ and at https://www.facebook.com/PoPMarlton
---
Will you consider helping us support more congregations along their welcoming journey? Your support helps us continue to provide networks, educational resources and training to LGBT Lutherans, allies and almost 600 congregations and ministry settings (and rapidly counting) that publicly declare their welcome and affirmation of LGBT people. We can't do it without you. Please donate or become a ReconcilingWorks member today!