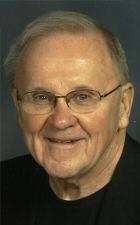 With great sadness, ReconcilingWorks notes the passing of the Rev. Jim Siefkes, who died on Saturday in Minneapolis. Jim was instrumental in the founding of Lutherans Concerned for Gay People, which later was named Lutherans Concerned/North American and then ReconcilingWorks. Working with the American Lutheran Church (ALC), a predecessor body of the ELCA, Jim secured funding for a meeting "to enable at least one national meeting of up to twenty ALC homosexual persons, plus five resource persons, to discuss their sexual orientation and their relationship because of it, to society and their church; to the end that they may address the church and the church might respond to them and become less a source of oppression to ALC and other persons with homosexual orientation."
Jim went on to work to help church and society become less of a source of oppression to LGBTQ people for the rest of his life.
In 1992, ReconcilingWorks established the Jim Siefkes Justice-maker Award to recognize superior and tireless efforts of straight, cisgender allies on behalf of LGBTQ Lutherans, with Jim being the first recipient.
For more on the life of Jim Siefkes, see
http://www.theliberalspirit.com/awretchedman/blog/?p=3190 and http://www.lgbtran.org/Profile.aspx?ID=119
The staff of ReconcilingWorks lifts up prayers for the Siefkes family, friends, and all who mourn.