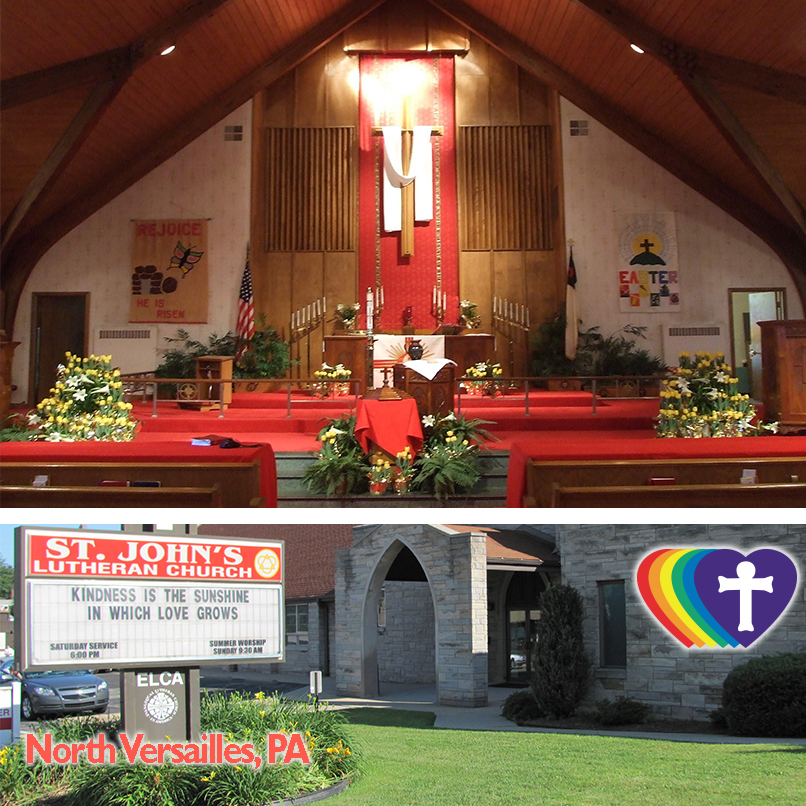 ReconcilingWorks is proud to announce our newest Reconciling in Christ congregation St. John's Evangelical Lutheran Church in North Versailles, Pennsylvania.
"A welcoming, all inclusive community of faith, centered in Jesus Christ and guided by the Holy Spirit. As baptized Christians realizing our humanity, we strive to be loving, caring and forgiving.
In response to God's grace. We commit ourselves to:
WORSHIP: Celebrating God's love with praise, prayer and Holy Communion.
SERVE: Being sensitive to the needs of all people.
LEARN: Growing spiritually, hearing and doing God's Word.
REACH OUT: Sharing both the Good News of Jesus Christ and God's gift of time, talents, and resources.
We look to the future with excitement and hope, open to growth as God leads us. We invite people of all ages to join in God's Mission at St John's, a place for everyone."
Please join St. John's for worship. Every weekend we have two services, both with Holy Communion: a Saturday Contemporary service (using Powerpoint) at 6:00 p.m. year-round, and Sunday Worship, with traditional Lutheran liturgy (Evangelical Lutheran Worship and With One Voice), at 10:45 a.m. September through May – 9:30 a.m. June through Labor Day Weekend. A staffed nursery is available during Sunday worship. Sunday School for all ages, including Adult Coffee and Conversation is at 9:30 a.m. September through May.
715 Lincoln Highway, North Versailles, PA 15137
Office: (412) 824-0277
sjnvoffice@verizon.net
www.lutheransonline.com/stjohns100
www.facebook.com/stjohnnorthversailles
Youth of St. John's: sjnvyouth@gmail.com and facebook.com/sjnvyouth
---
Will you consider helping us support more congregations along their welcoming journey? Your support helps us continue to provide networks, educational resources and training to LGBT Lutherans, allies and almost 600 congregations and ministry settings (and rapidly counting) that publicly declare their welcome and affirmation of LGBT people. We can't do it without you. Please donate or become a ReconcilingWorks member today!