This week, ReconcilingWorks joins organizations and individuals all over the map celebrating Transgender Awareness Week. We do this to celebrate the beautiful lives of God's beloved who are transgender and gender non-conforming and to shine a light on the issues these communities face.
To raise awareness and visibility, we encourage you to share the resources and stories posted here and on ReconcilingWorks' Facebook and Twitter pages this week with your faith community, friends, and other social media outlets as you work to extend a greater welcome to people of all sexual orientations and gender identities.
If your faith community hasn't become part of the Reconciling in Christ program yet, or if you have but haven't included a public welcome to transgender people, we encourage you to do.  Leo Bancroft, Vice-Chair of ReconcilingWorks' Board of Directors, writes, "By seeing a welcome to all, including all gender identities, I know that I too will be able to freely come to worship God, and share in the sacraments with your community.  This means the world to me!"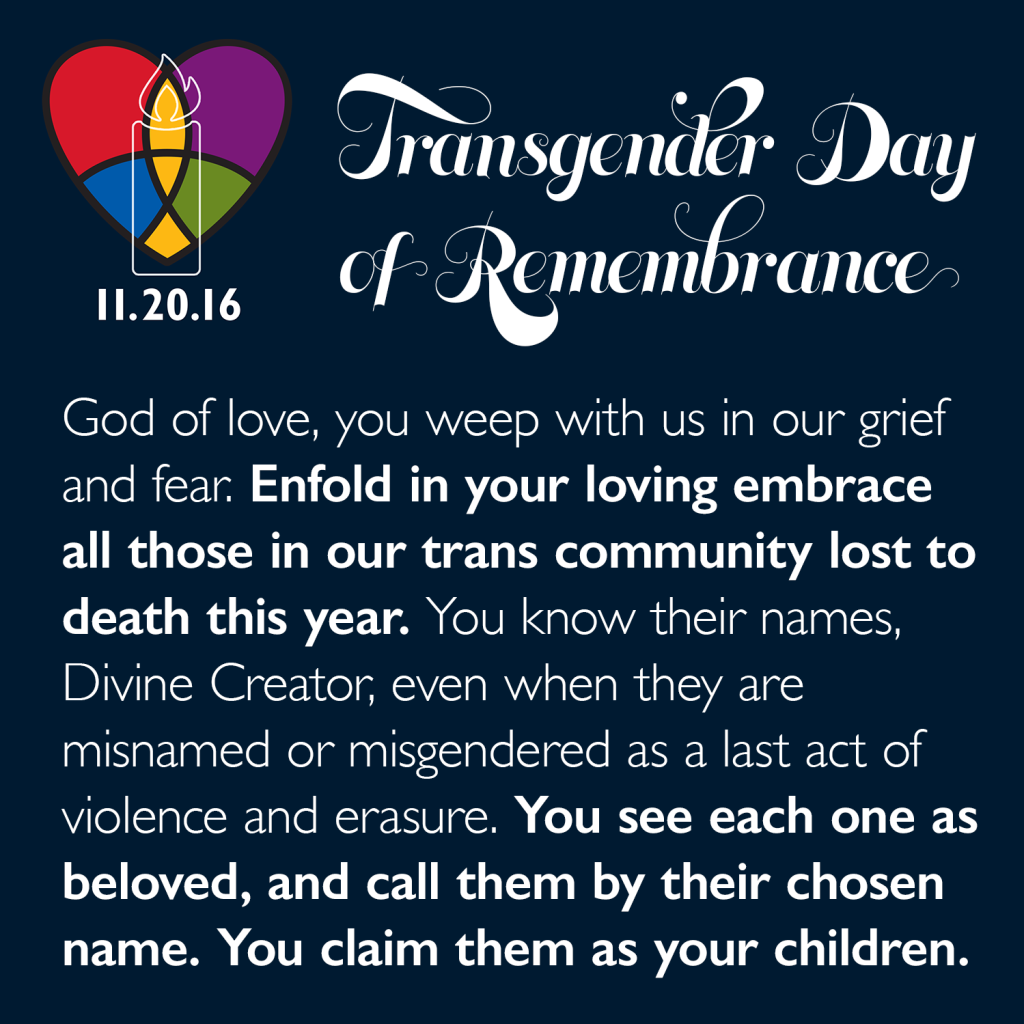 The most important day of this week for trans people and their allies is November 20, the Transgender Day of Remembrance (TDOR) is commemorated annually. On this day we memorialize the lives of all transgender and gender non-conforming people, known and unknown, who have been murdered out of fear and hate during the past year. Vigils, memorials, and other events in recognition of TDOR are held throughout the world. See https://tdor.info/2016/09/27/tdor-events-and-locations-2016/ to find an event taking place near you.
Concurrently on November 20, we celebrate the Transgender Day of Resilience (TDOR) which brings together artists, organizers, and community members to honor and celebrate those in the fight for trans liberation.
As Lutherans, we believe every human being reflects the Divine Image. Each of us is a beloved child of God, wonderfully made, just as we are. Our confidence in Christ Jesus calls us to work with all God's people to transform our communities, so welcome can be a lived experience in our congregations and in the world.