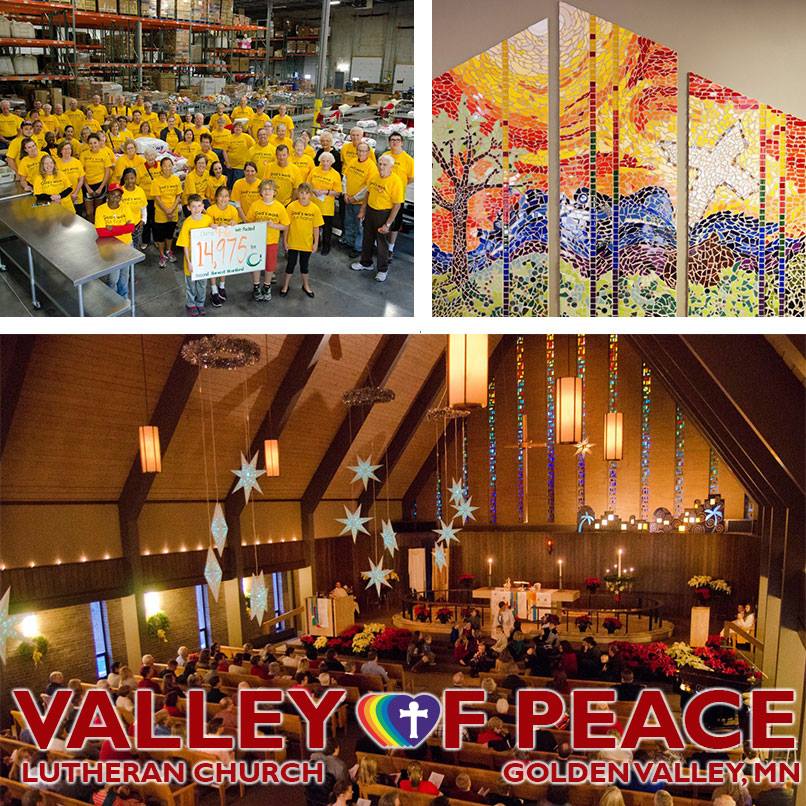 ReconcilingWorks is proud to announce our newest RIC congregation Valley of Peace Lutheran Church in Golden Valley, Minnesota.
"We are a Christian community who invites and welcomes all people to know God's grace, love, and forgiveness. Every person makes a difference and is an essential part of the community. We are a congregation of the Evangelical Lutheran Church in America. We are a forward-looking church. We continually revisit what it means to be a Christian and to be a Christian community today by asking ourselves, "What is God up to? How can we join God in the neighborhood and in the world?" We value children and young people and make space for their involvement in the whole life of the congregation. Our Sunday gathering focuses on worship centered around Word (the Bible) and Sacrament (Communion.) Everyone is welcome to the Lord's Table to participate in Holy Communion."
Join Valley of Peace for worship Sundays at 9:30 am Summer Worship (Memorial Day through Labor Day) 10:15 am Fall Worship (Labor Day through Memorial Day) at 4735 Bassett Creek Dr, Golden Valley, MN 55422-4167. Visit them online athttp://valleyofpeace.org/ and at facebook.com/Valleyofpeacelutheran
---
Will you consider helping us support more congregations along their welcoming journey? Your support helps us continue to provide networks, educational resources and training to LGBT Lutherans, allies and almost 600 congregations and ministry settings (and rapidly counting) that publicly declare their welcome and affirmation of LGBT people. We can't do it without you. Please donate or become a ReconcilingWorks member today!