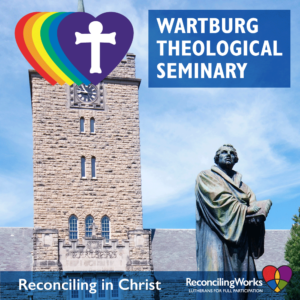 Wartburg Theological Seminary, a seminary of the Evangelical Lutheran Church in America (ELCA) located in Dubuque, Iowa, has been designated as Reconciling in Christ (RIC).
In June, the institution's board of directors acknowledged that "In service to the gospel of Jesus Christ for a world created for communion with God and in need of personal and social healing, WTS offers hospitality and welcome to all who participate in and support the seminary's academic programs and worship-centered community. Our welcome embraces people of every race, nation, ethnic origin, age, social class, cultural background, sexual orientation, gender identity, gender expression and physical ability. The practice of this wide welcome among us embodies the seminary's longstanding and enduring commitment to being an inclusive community that reflects God's reconciling purpose in Jesus Christ."
Academic Dean Craig L. Nessan said: "The faculty of Wartburg Theological Seminary has long affirmed the full participation of LGBTQ students in the life of our school and community. I rejoice that the day has now arrived for us to make this commitment public through the action of our faculty and board in becoming a Reconciling in Christ community."
"ReconcilingWorks celebrates with great joy and delight the work of Wartburg Seminary in becoming the sixth ELCA seminary to become Reconciling in Christ," Executive Director Aubrey Thonvold said. "Wartburg's commitment to this lifelong work of welcome, inclusion, and celebration of LGBTQ people is inspiring.  Amen for your leadership!"
"As we live into the calling we have to be followers of Christ, may this commitment to be an RIC community be part of the reconciliation we seek with our sisters and brothers in Christ across the church who know the pain of discrimination, hatred and violence," said President Louise Johnson.
The roots of Wartburg Seminary go back to the missionary efforts of Wilhelm Loehe in Neuendettelsau, Bavaria. Pastors sent out from Neuendettelsau founded an educational institution in Saginaw, Michigan in 1852. The following year the school moved to Dubuque, and in 1854, seminary education began. In 1916, the castle, designed after the German Wartburg castle where Luther translated the New Testament into German, was dedicated and continues as the present-day campus. The campus is located in a welcoming residential neighborhood and features housing for single, married, and students with families.
The Reconciling in Christ (RIC) Program of ReconcilingWorks recognizes congregations, synods, colleges, seminaries and other Lutheran communities that make a public welcome of people of all sexual orientations and gender identities and now stands at 688 settings across North America, including six of the eight ELCA seminaries. Along with Wartburg Theological Seminary, RIC seminaries include Trinity Seminary, Pacific Lutheran Theological Seminary, the Lutheran School of Theology Chicago, the Lutheran Theological Seminary at Philadelphia, and Gettysburg Seminary.