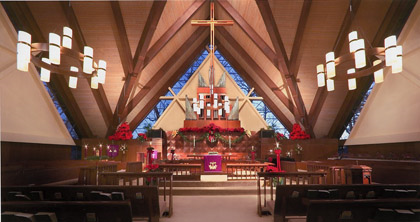 Help ReconcilingWorks welcome the newest Reconciling in Christ (RIC) community: First Lutheran Church (Greensboro, NC).
Their welcome statement reads:
"Recognizing that we are called by faith to embody God's unconditional love and abundant grace in challenging times, we joyfully welcome everyone into the life of First Lutheran Church.

We affirm what the apostle Paul wrote, that in Jesus Christ, the heart of God was fully revealed: "There is no longer Jew or Greek, there is no longer slave or free, there is no longer male or female: for we are all one in Christ Jesus." (Galatians 3:28)

As a Christian community, we are compelled to be God's agents of reconciliation and healing within society, embracing diversity and uniqueness. We are therefore committed to sharing God's love and Christ's mission with all people without regard to age, cultural or ethnic background, gender identity, sexual expression, or sexual orientation, economic or life circumstances, physical or mental ability, family situation, spiritual beliefs, or any of the things that so often divide us.

All are invited to be a part of First Lutheran Church. And all means all."
Learn more about First Lutheran Church at: www.firstlutheran.com.