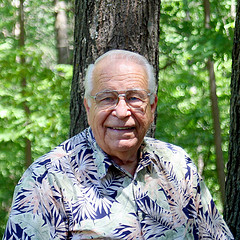 Paul Egertson died suddenly yesterday afternoon, January 5, 2011, in his home in Thousand Oaks, California. Egertson, staunch ally and advocate for full inclusion of LGBT people in the life of the church, had championed the ordination of LGBT candidates for ministry and an end to the policies and practices of the church that relegated LGBT people to a second-class.
While bishop of the ELCA Southwest California Synod, he participated in the 2001 ordination of Pastor Anita C. Hill of St. Paul-Reformation Lutheran Church, St. Paul, Minnesota. For this act, he subsequently resigned his position as bishop, and tirelessly advocated for the policy change that finally occurred as a result of the decisions of the 2009 Churchwide Assembly.
Egertson was awarded the Jim Siefkes Justice-Maker Award by Lutherans Concerned for his efforts on behalf of LGBT Lutherans.
Emily Eastwood, Executive Director, Lutherans Concerned, said, "Paul Egertson stood up for us and in opposition to the discrimination of the church against us when that was neither popular nor safe. His witness to Christ's redemptive grace and his commitment to helping the church see the error of its position are a shining beacon of prophetic righteousness in the face of determined opposition — and he did it with grace and eloquence, as befits a follower of Christ. He was a friend and mentor — always available, with words of calming wisdom. He made a profound difference. He will be missed."
Paul Egertson, born in 1935, is survived by his wife, Shirley, also a Siefkes award recipient, and their 6 sons. Funeral arrangements will be communicated as soon as they are known.
Phil Soucy
Communications Staff