A report from the Rev. Kim Beckmann in Chicago:
In a Valentine's Day session, the Illinois State Senate voted 34 – 21 yesterday in favor of SB 10: the Religious Freedom and Marriage Fairness Act. This vote was a significant step toward making Illinois the tenth state to legally recognize and support the loving commitments and family relationships of all couples.
Bishop Wayne Miller of the Metropolitan Chicago Synod sent letters to the Senate President and Majority leader, and the sponsor of the bill. The letter included a copy of that synod's resolution that had received overwhelming assembly support and had empowered Bishop Miller to communicate "that the Metropolitan Chicago Synod, meeting in Assembly, urges the Illinois Legislature and Governor to extend the protections and dignity of marriage to all persons and to protect the freedom of religion for all faith communities and religious organizations."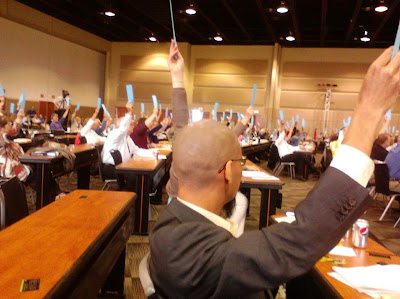 In June 2012, the Metropolitan Chicago Synod voted overwhelmingly in support of the Religious Freedom and Marriage Fairness Act.
In his letter, Bishop Miller indicated that the Synod Assembly is the highest governing authority in the synod, which geographically comprises Cook, DuPage, Kane, and Lake counties, and includes voting members from 200 congregations representing 100,000 baptized members. He was presenting the resolution for the attention of the lawmakers "in the hope that it will assist you in making a wise and just decision concerning the pending legislation to permit marriage for same-gender couples in our state."
House leaders (yet to vote) also received a copy of Bishop Miller's letter and the Metro Chicago resolution, as did Gov. Quinn, who states he is eager to sign the bill. Previously, Bishop Miller had added his signature to that of 300 other clergy in an open letter to lawmakers supporting the bill, and had signed on as bishop to the amicus brief in the judicial challenge for freedom to marry.
Five clergy from suburban counties in Metro Chicago and three from the Northern Illinois Synod had traveled to Springfield a week ahead of the vote to speak with legislators uncertain of how people of faith were viewing this bill. The resolution also calls upon congregations and members of the Metro-Chicago synod to welcome, care for, and support same-gender couples and their families and to advocate for their legal protection.
For Lutherans in Illinois, now is the time to advocate. A "Lutheran Night" at the downtown phone bank is being held on February 26, from 5:30 – 8:30 pm. Remote phone banks are springing up elsewhere this week. Contact kimlbeckmann@gmail.com for more information about how you can lend your self and your voice to this moment.
The Rev. Kim Beckmann is serving as interim pastor for Acacia Park Lutheran Church in Norridge, Illinois.