These Lutheran denominations allow for marriages of same-gender couples to be performed:
As of 2009, pastors have been able to preside over same-gender marriages where they have not not prohibited by civil law. As of 2015, that includes all states in the U.S.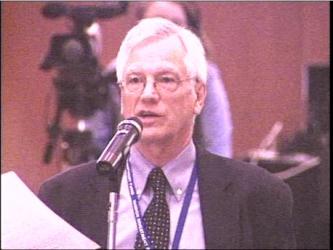 Here is what ELCA Secretary David Swartling said about the ELCA's policy on Marriage at the Southwestern Washington Synod Assembly (May 18-19, 2012, Vancouver, Washington):
"Two significant pieces of legislation were passed at the 2009 Churchwide Assembly. The first was Human Sexuality: Gift and Trust, a social statement of the Evangelical Lutheran Church in America. That document concluded that there is not consensus within the Evangelical Lutheran Church in America on the subject of same-gender relationships and people in good faith and based upon their conscience-bound belief, could reach a variety of conclusions about what is appropriate within this church. It did not change the definition of marriage, but it did not prescribe legislatively what marriage was. Previously, the church actually says historically and the Lutheran confessions define marriage as between a man and a woman, but that is a statement of declaration and not a statement of prescription.
"In addition, it said that, in defined circumstances, people in publicly accountable monogamous same-gender relationships could come onto the roster of the Evangelical Lutheran Church in America. And part of that public accountability is to obtain the highest level of recognition within the appropriate jurisdiction.
"Now, what does this all mean? First of all, the ELCA governing documents, the constitution and bylaws, say nothing about marriage. Secondly, the ELCA's policies have never told a local pastor in a congregation who that pastor should marry or should not marry. That is a matter up to the discretion of that pastor in consultation, hopefully, with his or her congregation and his or her synod. The requirement is that you need to comply with state law.
"Therefore, from a policy perspective, if you purport to conduct a marriage of same-gender persons in a state that does not allow that, that is inconsistent with the ELCA policies in Vision and Expectations, which were revised following the 2009 Churchwide Assembly. So, if state laws allows marriage of same-gender persons, there is nothing in ELCA policy that either says that is permissible or prohibited. It has been the policy of the church historically that marriage is between a man and a woman, but if a pastor, based on his or her discretion in a congregation where it is lawful in the state and that congregation affirms that decision, that is not the basis for subjecting a pastor to discipline based upon the existing policy of the ELCA. Because the discipline policies also allow other avenues of discipline, you can't preclude that someone would bring disciplinary actions. But the most correct answer from a legal perspective, is that there is nothing that prescribes who a congregation pastor can marry or not marry, so long as it is consistent with state law."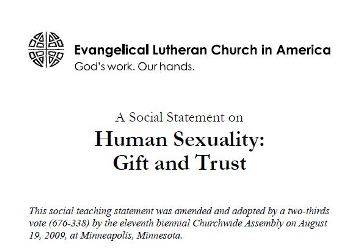 Here are some relevant excerpts from the ELCA social statement Human Sexuality: Gift and Trust:
"Recognizing that this conclusion differs from the historic Christian tradition and the Lutheran Confessions, some people, though not all, in this church and within the larger Christian community, conclude that marriage is also the appropriate term to use in describing similar benefits, protection, and support for same-gender couples entering into lifelong monogamous relationships."
(page 18 of printed version, emphasis added)
"We further believe that this church, on the basis of the bound conscience, will include [the following] understandings and practices within its life as it seeks to live out its mission and ministry in the world: . . . . On the basis of conscience-bound belief, some are convinced that the scriptural witness does not address the context of sexual orientation and committed relationships that we experience today. They believe that the neighbor and community are best served when same-gender relationships are lived out with lifelong and monogamous commitments that are held to the same rigorous standards, sexual ethics, and status as heterosexual marriage. They surround such couples and their lifelong commitments with prayer to live in ways that glorify God, find strength for the challenges that will be faced, and serve others. They believe same-gender couples should avail themselves of social and legal support for themselves, their children, and other dependents and seek the highest legal accountability available for their relationships."
(pages 19–20 of printed version. emphasis added)
In July 2011, delegates of the 13th Biennial ELCIC National Convention approved the following policy statement:
"It is the policy of the Evangelical Lutheran Church in Canada that rostered ministers may, according to the dictates of their consciences as informed by the Gospels, the Scriptures, the ecumenical creeds and the confessions of the Evangelical Lutheran Church, preside at or bless legal marriages according to the laws of the province within which they serve. All rostered ministers in the Evangelical Lutheran Church in Canada are encouraged to exercise due diligence in preparing couples for marriage. All rostered ministers serving congregations are encouraged at all times to conduct their ministry in consultation with the lay leaders in the congregation and with sensitivity to the culture within which the congregation serves."
 
From the ELCIC Social Statement on Human Sexuality:

This church affirms marriage as a covenant of fidelity—a public, lifelong commitment between two people in a personal and sexual union. God, the source of all love, is active in marriage, offering encouragement, forgiveness, healing and blessing. The two spouses bear the primary responsibility for living out their vows and in recognizing God's activity in their relationship. The church's supportive role is expressed through community, prayer, worship and pastoral care.
Through the course of the Bible, the understanding of marriage changed as the people of God sought to faithfully follow the word of God given to the prophets of their age, and the new word given by Christ to the apostles. Similarly, the understanding of marriage has changed through the course of history, and as various expressions of church sought to engage local societies. While honouring marriage theologically and liturgically, the Lutheran tradition has long acknowledged that civil authorities have a significant role to play in the administration of marriage. The Lutheran tradition also acknowledges there may be diversity in practice for "ceremonies or ecclesiastical practices that are neither commanded nor forbidden in God's Word."
In a spirit of prayer and learning, Christians continue to have their perspectives on family and marriage challenged by Word and Sacrament. This includes God calling us and prodding us toward a faithful life in all circumstances. Traditionally, marriage has meant a commitment of one man and one woman. The church now faces the reality that same-sex couples can be legally married in Canada and in some other countries. Marriage provides community support, including legal protections for spouses and children; this support and protection are a need for both same-sex and opposite-sex couples.
Our church is conflicted on how to acknowledge covenants of fidelity made by same-sex couples. While acknowledging same-sex couples is troubling to some members of this church, failure to acknowledge these covenants of fidelity is troubling to others. At this moment in time, this church is being called in the spirit of St. Paul (Galatians 2) to respect and to allow space for varied understanding and practices.
We pray for the guidance and power of the Holy Spirit as we seek to support couples who enter into a lifelong commitment of fidelity to one another in marriage.
Since May of 2009, same gender couples same-sex couples have been included in the "institute and concept of marriage."